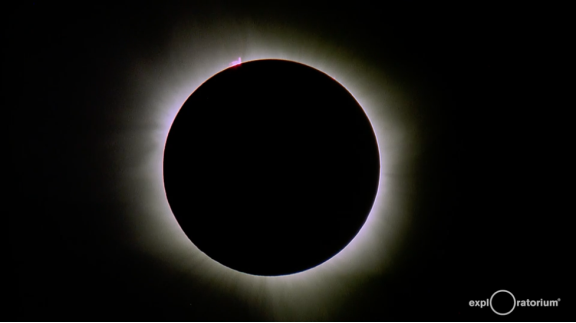 total solar eclipse app
The Total Solar Eclipse App, produced by the renowned Exploratorium in San Francisco, includes an interactive map, safe-viewing techniques, and the ability to view the eclipse live from internet-connected phones and tablets. The app also enables users to move seamlessly between the Exploratorium's five live streams of the eclipse, which include direct telescope feeds from Wyoming and Oregon, English and Spanish programs featuring scientists from the Exploratorium and NASA, and a sonification of the eclipse with a live performance by Kronos Quartet at the Exploratorium's home on the San Francisco waterfront. In "social mode," users can engage with communities via social media using preloaded hashtags even while viewing live and recorded eclipse videos. The release of the app is part of the Exploratorium's large-scale education initiative, supported by NASA, around the coming total solar eclipse on August 21, 2017.
eclipse programming at the exploratorium in san francisco
From San Francisco, the moon will only partly cover the Sun—a partial eclipse—but the Exploratorium will open early at 9:00 AM and will have telescopes and solar safety glasses on our Plaza for viewing, and astronomers from NASA Ames and The Planetary Society available to answer questions. Visitors will have an opportunity to learn about solar eclipses and observe a partial solar eclipse outside on the Exploratorium's Plaza, but they'll also be able to head inside to watch the Exploratorium's live programming of the Eclipse from Casper, WY and Madras, OR on large screens that will be set up throughout the museum. Last, though the tickets have already sold out, the Exploratorium is hosting Kronos Quartet for an eclipse sonification and musical performance by the world-famous musicians.
5 LIVE FEEDS: DETAILS AND ACCESS INFORMATION
telescope views from oregon: mos | 2.75 hours beginning at 16:00 utc / 9:00 am pdt
Start: 16:00UT, 9:00am PDT, 10:00am MDT, 12:00pm EDT || End: 18:45UT, 11:45am PDT, 12:45pm MDT, 2:45pm EDT || 1st contact at 16:06, totality at 17:19, 4th contact at 18:41

Live MOS (soundless) feed of the eclipse from 4 telescopes on the ground in Madras, Oregon

4 Telescopes include: white light and Hydrogen-Alpha filters; full-disc and quarter-disc

Uses: television news programs; showing on public monitors; embedding in your website; 'capturing' to post on social media

Available on Galaxy 3 Satellite and by embedding
telescope views from wyoming: mos | 3 hours beginning at 16:15 utc / 9:15 pdt
Start: 16:15UT, 9:15am PDT, 10:15am MDT, 12:15pm EDT || End: 19:15UT, 12:45am PDT, 1:15pm MDT, 3:15pm EDT || 1st contact at 16:22, totality at 17:42, 4th contact at 19:09

Live MOS (soundless) feed of the eclipse from 4 telescopes on the ground in Madras, Oregon

4 Telescopes include: white light and Hydrogen-Alpha filters; full-disc and quarter-disc

Uses: television news programs; showing on public monitors; embedding in your website; 'capturing' to post on social media
1-hour english language educational program (based in oregon, featuring wyoming)
Start: 17:00 UT, 10:00 PDT, 11:00am MDT, 1:00pm EDT // End: 18:00 UT, 11:00 PDT, 12:00 MDT, 2:00pm EDT
Featuring interviews with eclipse chasers, Exploratorium and NASA Scientists, and totality from two locations

General information about the eclipse, path of totality, and safe-viewing techniques

Explore NASA's upcoming Solar Probe Plus mission with NASA scientist Dr. Eric Christian

Hosts: NASA Education Specialist, Dr. Hakeem Oluseyi and Exploratorium's Dr. Rob Semper

High-dynamic-range live eclipse video streams from four telescopes at each location

Uses: viewing in schools and community eclipse events, eclipse parties, online viewers wanting to learn about eclipses while seeing live views of eclipse from telescope feeds

1-hour spanish language educational program (based in oregon, featuring wyoming)
Start: 17:00 UT, 10:00 PDT, 11:00am MDT, 1:00pm EDT // End: 18:00 UT, 11:00 PDT, 12:00 MDT, 2:00pm EDT
Featuring interviews with eclipse chasers, Exploratorium and NASA Scientists, and totality from two locations

Hosts: Bay Area Univision Host and Emmy Award winner, Kira Vilanova, and Dr. Isabel Hawkins providing informal commentary about the eclipse, path of totality, and safe-viewing techniques

NASA's upcoming Solar Probe Plus mission with Dr. Eric Christian

High-dynamic-range live eclipse video streams from four telescopes at each location

Uses: Spanish-speaking audiences viewing in schools and community eclipse events, eclipse parties, online viewers wanting to learn about eclipses while seeing live views of eclipse from telescope feeds
3-HOUR SONIFICATION WITH 30-MINUTE KRONOS QUARTET PERFORMANCE (BASED IN SAN FRANCISCO)
Video feed: same as

telescope views from wyoming

In addition to the sonification, in the 30-mins surrounding totality, the Kronos Quartet will be adding a live musical score.

Live video is converted into raw data, which is then converted into sound. This computer-created 'sonification' will be the audio track for this feed

A video explaining the process of sonification: Making Music from a Solar Eclipse

Uses: Embedding in a website, 'Capturing' to post on social media,

More information on the process and score is here: http://waynegrim.com/sonification-of-the-total-solar-eclipse-august-2017